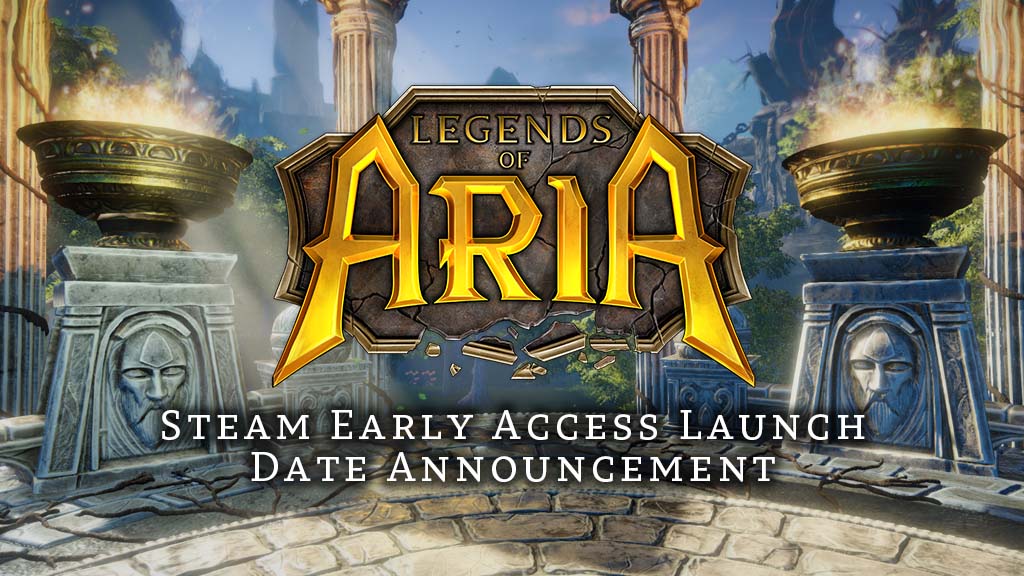 Legends of Aria Launches on Steam This December
Citadel Studios is celebrating the milestone with an ASUS GTX 1080 Giveaway!
Washington DC – October 4th, 2018 | Today, Citadel Studios is proud to announce that its flagship sandbox MMORPG Legends of Aria will be coming to Steam Early Access on December 4th, 2018. The wait is finally over, and the world of Aria is almost ready to be explored by all. All those who pre-order the game between now and December 3rd will be able to take part in the 7-Day Head Start and obtain all of the other Founder's Packs bonuses, including the chance to lay claim to their own plots of land and build their homes before anyone else.
"It's hard to believe it's been four years since we began this journey," said Citadel Studios Founder Derek Brinkmann. "So much has changed since then. We've gone from making a smaller scale online RPG to making the large-scale full-on sandbox MMORPG we've been dying to play since Ultima Online, Dark Age of Camelot, and EverQuest first made us all believers in the genre years ago. We've got even more content and additions planned for the future of Aria, but we're just excited to finally open the doors and see what the players will do in our world this December."
Legends of Aria is the spiritual successor to classic MMORPGs – a massive, player-run world in a modern and beautifully realized setting. It's a return to the sort of game where player choice and freedom is paramount, where hand-holding and gear scores have no place.
Take a look at the Steam Launch Trailer revealed today. It highlights some of the many different roles a player can take on during their time in Aria:  
Discover a world forged by players, where your choices write the story. What role will you play?
As a part of our pre-launch celebration, we're holding several contests leading up to the December 4th go-live date. The first contest asks players to submit an answer to the question "What role will you play?" You can also sign up for our Newsletter to gain automatic additional entries. The winner will receive an ASUS GeForce GTX 1080 8GB ROG Strix Graphics Card and a Lord Founder's Pack to Legends of Aria. Two Runners-up will receive Lord Packs of their own to play come launch day.
Interested players can enter the contest HERE.
Key Features:
A Living, Breathing MMORPG: Explore a true open world without limitation. Build, explore and adventure with thousands of players in a living breathing world defined by you.

Skill-Based World: Legends of Aria returns to a true skill based system. Build your character your way, be you a crafter, adventurer, merchant or humble fisherman. Hone your skills through use and play your way with a choice of over 32 unique skills.

Return to a True Sandbox: Legends of Aria is inspired by the original sandbox MMORPGs. Experience a world that does not hold your hand. A world that is driven by you and shaped by our community. A world of dangers, where friendships, enemies made and your actions written into legend.

Community Servers and Modding: The first MMORPG to fully support player run servers. Legends of Aria is designed to be modded from top to bottom including custom gameplay rules, custom content and even entirely custom created worlds.